Specifications
Battery Model: 21700 Type,20,000mah
Blade Size:7 Inch Blade
Certification: FCC CE ROSH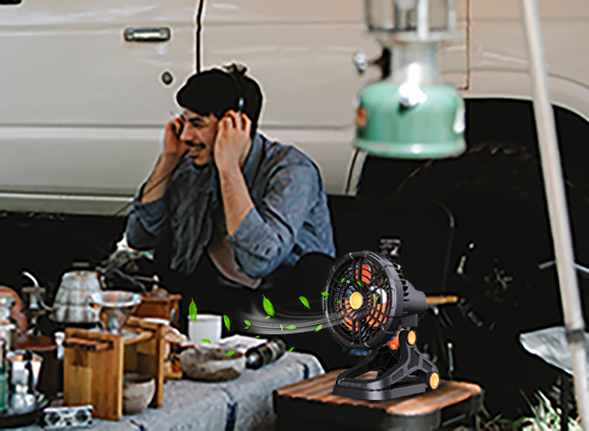 Features
1:Auto-Oscillating Angle Can Be 90°,120°,180°,360°(Can Oisillate From Back And Forth By Each 45°)
2:Timer: 2,4,6,8 Hours Selection
3:Mosquito Eradication Function By Heating;
4:Stepless Speed Regulating;
5:Quick Charging:3a/5v,2a/9v,1a/12v;
6:Power Bank Function 3a/5v,2a/9v,1a/12v;
7:Led Dimmer Regulation 3 Gears;
8:Clip Function,Tripod Bracket,Max Wind Speed 3.8m/S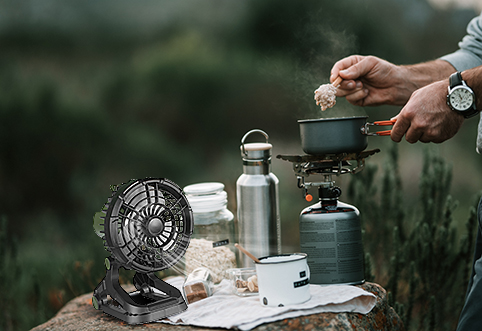 Product Introduction
Outdoor fans are an essential accessory for outdoor living. Sometimes, the weather in certain places can be unbearably hot, while other places may be infested with bugs. Outdoor fans provide a solution to these problems.
Firstly, this small outdoor fan can automatically oscillate and the oscillation angle can be 90 degrees, 120 degrees, 180 degrees, or 360 degrees (oscillating back and forth by each 45 degrees). This oscillation method can distribute the fan's airflow more evenly in the surrounding space, reducing the impact of heatwaves on the human body.
Secondly, this small outdoor fan also has a timer function, which allows users to choose the usage time of 2, 4, 6, or 8 hours. This function can save power and enable people to adjust the usage time according to their needs.
In addition, this small outdoor fan also has a mosquito eradication function. It kills mosquitoes by heating them, effectively preventing mosquito bites during outdoor activities. Also, this fan has other functions such as stepless speed regulation, quick charging (3A/5V, 2A/9V, 1A/12V), power bank function (3A/5V, 2A/9V, 1A/12V), LED dimmer regulation in three gears, and a clip function for installation.
Finally, this outdoor fan is equipped with a tripod bracket and a clip function, as well as a maximum wind speed of 3.8m/s and a 7-inch blade. These designs make this fan more convenient and applicable to various outdoor occasions. Overall, this multi-functional outdoor fan not only provides strong wind power for outdoor activities but also repels mosquitoes, saves power, has quick charging and power bank functions. It has various practical functions such as stepless speed regulation, LED dimming adjustment, and clip installation. It is an excellent outdoor fan product.
This small Outdoor Fan is available here for you to wholesale. As an outdoor fan company in China, we strive to be a reliable China outdoor fan supplier to provide performance products and high quality customer service with our clients.
Customer service is our honor, and we will deal with any problems with our guaranteed products. If you have any doubts, please feel free to contact us.