When we buy air conditioners, we will see a unit called BTU. Do you know what BTU stands for? BTU stands for British Thermal Unit, which is a unit of measurement used to quantify the amount of heat required to raise the temperature of one pound of water by one degree Fahrenheit. It is commonly used to measure the heating or cooling capacity of HVAC (heating, ventilation, and air conditioning) systems, as well as the energy content of fuels such as natural gas and propane. The higher the BTU rating, the more heat or cooling capacity a system has.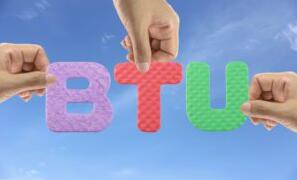 Although it is still used "unofficially" in metric English-speaking countries (e.g. US, Canada, UK), usage has been reduced or replaced elsewhere in the world. In a scientific context, BTU has been replaced by the joule unit of SI energy [J].
The performance of small cooling systems and heat pumps is usually given in BTU – meaning the number of BTUs per hour, or BTU/hour.
1 BTU = 1.055 kJ
1 BTU/h = 0.293 W
In hot summer, many people like to get in touch with nature and carry out outdoor camping activities. However, the heat was sweltering, sweating profusely, which make us feel uncomfortable and tired. Luckily, there is an amazing device that can keep you as cool and comfortable outside as you are indoors. It is an outdoor air conditioner.
This 5000BTU outdoor air conditioner has five functions of air conditioner, fan, dehumidifier, auto and purifier in one, which can meet all your cooling needs. It has a high-quality compressor and full power to provide you with reliable and consistent cooling. Plus, it features a 24-hour timer setting, LED display, and remote control for easy operation from your camping tent or car.
Lightweight and easy to move, this outdoor air conditioner is an ideal solution for multiple scenarios such as outdoor camping, indoor use, car camping, and pet use. It cools fast, starting to cool in just 15 seconds. Best of all, it's installation-free so you can enjoy the benefits of cool, fresh air without the need for a complex air conditioning system.
No matter where your outdoor activities take place, this camping air conditioner is a must-have for keeping you cool and comfortable outdoors. With its multiple functions, light and portable features, it will surely become your good companion for outdoor activities.
Why choose us?
United Star is one of the most reliable portable air conditioner factory of environmental air cooling appliance. We wholeheartedly provide OEM, ODM, and OBM services to our customers. We have more than 14 years of experience. If you need any help with choosing a suitable product or have any questions about us, please feel free to contact us at any time and we will try our best to assist you. Please be assured that your inquiry will be replied to within 24 hours.