Warmly Congratulate fan factory UnitedStar on Successfully Obtain GS Certificate of EU about dehumidifiers!
GS means "Geprüfte Sicherheit" (safety certified) in German and "Germany Safety". GS certification is a voluntary certification based on the German Product Safety Law (GPGS) and tested in accordance with the European Union's unified standard EN or the German industrial standard DIN. It is a German safety certification mark recognized in the European market.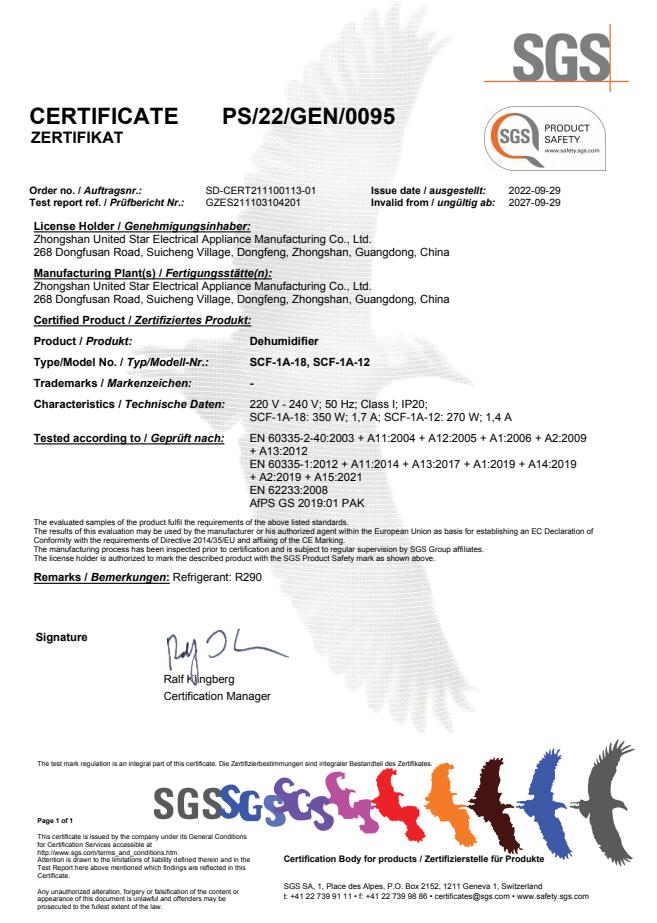 The GS certification mark indicates that the safety of the product has passed the test of a credible independent agency. Although the GS certification mark is not a legal requirement, it does make the manufacturer subject to strict German (European) product safety laws when the product fails and causes an accident. Therefore, the GS certification mark is a powerful market tool, which can enhance customer confidence and purchase desire. Although GS is a German standard, most countries in Europe agree. And meet the GS certification at the same time, the product will also meet the requirements of the European Community's CE mark. Unlike CE, there is no legal requirement for the GS certification mark. However, because the safety awareness has penetrated into consumers, an electrical appliance with the GS certification mark may be more competitive than ordinary products in the market.
Since its establishment in 2010, fan manufacturer UnitedStar has focused on the R & D, design and production of high-quality electric fans and mobile air conditioners. Relying on its professional ability and core technology in environmental air cooling electrical products, fan factory UnitedStar strives to provide professional and efficient OEM and ODM services to customers all over the world, and is determined to become the most trusted supplier of environmental air cooling electrical appliances.